Dedicated gift
Wow I cant believe that today when I logged on to DA I found a nice comment with saying that a dear friend of mine dedicated a wonderful gift for me. Check it out!

And also I got this amazing poem what I truly dont deserve from a friend with a golden heart. THe words she says in this poem are one of the nicesst I have heard. Take a look at it and you will know what I mean.


Kristi, Woman in Midnight BlueBeautiful Woman in Midnight Blue.
Your wonderful portrait is priceless.
Your smile is like a sunrise and timeless.
You look pretty & innocent indeed,
Your tantalizing eyes shine, shiny as sapphire
Your smooth & manageable hair,
Your angelic face that made me feel proud & bright,
The sweet smile you gave away.
Timid and charming,
Your beauty never fade away my friend.
Don't be afraid to show your smile.
You are the god's gift to the world.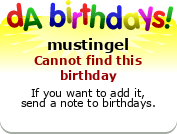 Please help
FOR PAYPAL : e-mail : valgeroos@gmail.com
This is to people who have decided or some who might help me with the problem. As i said the money can be sent through a bank, western union (which is a safe and fast way to transfer money)
[link]
and I made a paypal account. I also made it so the money can be sent via skype : must_roos_kristi.
So for any info, please note me.
Ok Im a person who dosent really talk about her life a lot in journals just cause of the simple fact that I like to keep it private.
But, this time I have to ask you people for some help.
I have had some horrible couple of years. When i mean horrible, i truly mean it, but Im not gonna go into details with this one.
But now one thing happened what killed me emotionally. I wanted to get a visa to see my bf for at least a month (Temporary visa). For some reason, which I dont know why, it was denied.
It crushed my heart cause that had been one of the oNLY things what kept me from going insane, the thought of being able to be with my loved one soon.
A friend - Jake, came up with an idea that I should ask for some help from DA peoople. At first I wasnt sure, but it's worth a shot. We are going to do a marriage visa, but for that we need a lot of money, cause we need help with it. The amount together with later also with the ticket of me going there is about 4-6 thousand dollars.
I ask for YOU nice people who have supported me so far, for your kindness to help me out just a bit with money. I know it wont be much, but even if i could get 1 dollar from every watcher, it would already be help for me.
I will make paypal account just for that if you think you can help or can send money to just bank account or what ever suits you best. Just please,if you want to help, note me.
I know christmas is coming and we all need the money, so i understand if no one can actually help. I truly need some miracle, something happy ...
I never ask people like this, but, if you can, please help, it would be more than appreciated.
You dont have to just donate, You can ask for commission for a drawing or anything and YOU will decide how much you will pay for it.
Well, thats it, thank you for reading and I hope someone can help me.
So everyone who wants to donate can ask a request from me for free for donating. I would be more than happy to draw/make a photograph or what ever you wish!
***********************************************************************
Angel Without Wings
who are Angel without Wings? That are those fellow deviants:
who more or less regularly feature other deviants
who allways willingly give tips, hints, helpful comments
who answer at least a fair amount of the comments they get
who give kind and or uplifting words where they see its needed
or what else helpful, kind, supporting they might do/have do
So if you know anyone like that, drop a note to her.
I think it is a really nice thing to do and im sure that the people who will get that award, are going to be very very happy.
Thank you Nameda for making such a wonderful project.

Holiday Card Project 2008 [link]
Please be sure to take a good look at this really nice DA project.
It is always so nice to know that you helped somehow to make a person happy. So if You want to do the same, go to that link
[link]
and help making people happy.
Thank youi people for all the support, watches, comments and favorites! I love you all for it!
For

To P40-Warhawk who told me to write 10 things i like with the letter "B"
1.beautiful day
2.beach
3.bananas`? xD
4.baking
5.bamboo
6.bands ( my bf's and lot more)
7.bat
8.bath (isnt that just so nice and relaxing) with candles all arounf

9.bed ( man im sleepy) *wants to go to bed *
10.berries, like starwberries and blueberries etc.

by =Nameda &

Alice makes comments in pleasant and profesional way, she gives nice advices, features others and makes & supports competitions with valuable prizes: Sometimes she even spices her journals with something to make others smile.

by =Nameda Rhonda features many fellow deviants and shows grateful of gifts. She answers all comments and thanks for every fave. She jokes arround with her fellow deviants and tries to cheer up where needed. Plus she clearly shows that even someone who hasnt huge pvs can be an a sweet person and care about fellow deviants.
And my own really nice friend aswell


by

&

She does a lot of feature, takes the time to answer most comment she gets and always seems to have time to offer some kind words. She comments a lot too and she is always there for anyone who needs her. Plus she has a very weird humour as you can see on her daily videos
:thumb90643902:
********************************************************************
C H R I S T M A S
:thumb13448979:
:thumb26771211:
:thumb75487375:
********************************************************************
My dear friends contests:

contest
[link]
entry can be anything you like, only one rule : it has to be your most favorite work you have done

and

[link]
Dark Christmas Contest

[link]
Spongebob contest

[link]
contest where the only rule is that you have to Draw your favorite of her Deity characters
**************************************************************
My lovely watchers